---
In 2020 wird die erste reine "Line" Clinic der 24/7 AFS stattfinden. Die Clinic wird speziell für Offensive Line und Defensive Line Coaches, wie Spieler sein. In unterschiedlichen Theorie Einheiten und praktischen Einheiten werden den Teilnehmern detaillierte Techniken und Shemes der Positionen OL und DL vermittelt.
Für diese Clinic werden 2 Coaches der South Dakota University nach Deutschland reisen.
The South Dakota Coyotes football program is the intercollegiate American football team for the University of South Dakota located in the U.S. state of South Dakota. The team competes in the NCAA Division I Football Championship Subdivision (FCS) and are members of the Missouri Valley Football Conference. South Dakota's first football team was fielded in 1889. The team plays its home games at the 10,000 seat DakotaDome in Vermillion, South Dakota.
South Dakota offensive line coach Andrew Prevost joined Nielson on the Coyotes' coaching staff in December of 2015 and has worked with Nielson since 2011. Prevost coached USD tight ends in 2016 and 2017 before managing the line.
Prevost began his coaching career in 2010 working as a student assistant coach at Wisconsin-Eau Claire, his alma mater, where he lettered two years on the offensive line for the Blugolds. Prevost graduated with a degree in organizational communication/information systems in 2011.
Prevost continued his career at the University of Minnesota Duluth in 2011 and worked there for two years under Nielson as the linebackers coach. While at UMD, Prevost received a master's degree in education. He helped tutor NSIC North Division All-Conference First Team athletes Rob Huberty and Derrick Zappa in 2011 and did the same for All-NSIC honoree Nate Zuk in 2012.
In 2013, Prevost took the defensive lineman job at Western Illinois. That year the Leathernecks finished seventh in the nation in total defense, 14th in first downs defense and 31st in third down conversion defense.
For 2014, Prevost switched to the offensive side of the ball and was the tight ends coach. In 2015, he helped WIU return to the Division I FCS playoffs where the team went to the second round and finished the season with seven wins.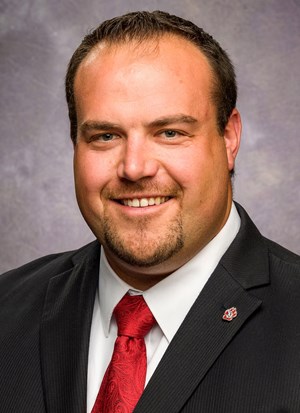 Rob Aurich was added to Bob Nielson's staff in February of 2018. He serves as special teams coordinator and inside linebackers coach for the Coyotes. He worked primarily with the outside linebackers during his first season in 2018.
Aurich competed for Nielson at Minnesota Duluth and won national titles with the Bulldogs in 2008 and 2010. He graduated as the program's second-leading tackler with 310 stops, was a first-team All-American in 2009, and is a three-time all-NSIC honoree.

Aurich was on the coaching staff at Bemidji State from 2014-17 and served as defensive coordinator for the Beavers his final season there. BSU went 24-10 over his final three seasons and featured a top-25 defense with Aurich in the coordinator chair. His unit in 2017 ranked in the top 10 in opponent yards per carry (fourth), interceptions (seventh) and opponent yards per play (ninth) while also finishing 18th in sacks.

Prior to Bemidji, Aurich worked as an outside account executive at Livingston International in Chicago, and prior to that as a paralegal intern in Duluth. He received his bachelor's degree in criminology from UMD in 2010 and completed his master's degree in business administration from BSU in 2015.
---
LOCATION
---
Trainingsgelände der Albershausen Crusaders
Sport-Kunstrasenplatz
Schafhofstr. 8
73095 Albershausen
TIME
---
Samstag, 22. Februar 2020
10.00 Uhr bis 17.00 Uhr
Sonntag, 23. Februar 2020
10.00 Uhr bis 17.00 Uhr
TEILNEHMER
---
Spieler und Spielerinnen ab 13 Jahren
Nur begrenzte Plätze
---
TEILNAHMEGEBÜHR TAGESTICKET
Samstag oder Sonntag
Spieler = 60,- €
Coach = 60 ,- €
TEILNAHMEGEBÜHR WOCHENENDE
Samstag und Sonntag
Spieler = 85,- €
Coach = 85,- €
Das ausgefüllte Anmeldeformular senden Sie bitte an: anmeldung@247afs.de
---
Das Camp findet auf dem Trainingsgelände der Albershausen Crusaders statt. Durch die Zusammenarbeit mit den Albershausen Crusaders ist es möglich, den neuen American Football Kunstrasen, sowie das gut sortierte Trainings-Equipment zu nutzen.