American Football Coaches Education Program. Learn from 11 year NFL veteran Michael Wahle
Raising the bar starts with offering your people more. A chance to become more than they are. The values that we hold dear in the competitive sports arena hold true in all competitive endeavors. Every member of your team has a dream to be the best possible version of themselves. They might not know what exactly that looks like, but that is the goal.
---
Michael Wahle
11 year NFL veteran
Michael James Wahle (born March 29, 1977) is a former American football guard who played eleven seasons in the National Football League (NFL). He played college football at Navy. He was drafted by the Green Bay Packers in the second round of the 1998 NFL Supplemental Draft. A Pro Bowl selection in 2005, Wahle also played for the Carolina Panthers and Seattle Seahawks.
.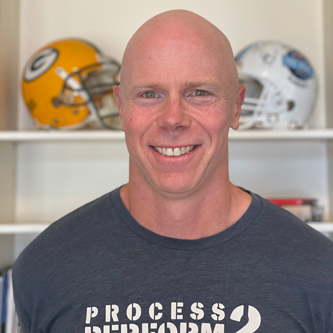 ---
2-Day Workshop for American Football Coaches with former NFL ProBowler and Skill Development Specialist Mike Wahle.
Become the best Developer of Talent in your Area, Coaches & Players.
Learn how to directly improve the On-Field Performance of your Athletes through
Classroom Sessions
On-Field Progressions
Ownership Decisions
---
Day 1
Classroom Session:
Player Development Model
On-Field Session:
Prime & Pummel Blocking
Weightroom Session:
Areas of opportunity & using transferable movement patterns
Classroom Session:
Finding hidden advantages – using the right data
Creating the conditions for your Athletes flourish
On-Field Session:
Hunt & Hammer Tackling
Weightroom Session:
How we can make our movement prep more direct to on-field performance
Day 2
Classroom Session:
Overcoming roadblocks to organizational success
On-Field Session:
Hunt & Hammer Tackling
Prime & Pummel Blocking
Weightroom Session:
Areas of opportunity & using transferable movement patterns
Classroom Session:
Breaking down Tape
Open Forum:
Qustions & Answers
---
---
March 4 – 5, 2023

ctk Sportpark
Schaffeldstr. 9
91616 Neusitz
Registration open for Coaches
Only 15 Spots
---
Registration Coaches:
Certification
Shirt
Writing Pad & Pen
Overnight Stay in a Hotel Saturday to Sunday
Lunch Saturday & Sunday

Spots are limited – only 15 spots are available
Please fill in the registration form and send it to anmeldung@247af.de
REGISTRATION – COACH
---