---
Due to the actual Situation all over the world, we decided to bring our camps and clinics to your home!
The first ever series of online clinics from the 24/7 American Football School will be hosted next Week. And will feature some great Coaches out fhe USA. We will have High School Coaches, College Coaches and NFLE Coaches giving their knowledge of the game.
To register to our online clinic, please send an email to: anmeldung@247afs.de
Please send the following information:
– Full Name
– For what Day will you register
– For what Team are you coaching
---
Coach Vaas embarked on his coaching career in August of 1974 by accepting the humbling position of "janitor in the gym/ass't football coach" at Allegheny College in Meadville Pennsylvania. Peter spent 5 years at Allegheny fulfilling many roles and then went to the University of New Hampshire where he was a member of a perennially Nationally ranked football program. In 1986 Peter accepted the position of Head Football Coach at Allegheny and in his second season there led them to their first undefeated season in 70 year's not bad for the janitor that was inducted into Allegheny's Hall of Fame in 1999. After his success at Allegheny Peter accepted a position with Lou Holtz at Notre Dame after 2 season's his Alma Mater called and Peter followed his heart back to Worcester. After 4 years at Holy Cross Peter embarked on what has been a very successful career in professional football spending 1 year as the offensive co-coordinator of the Montreal Alouettes…from there he joined NFL Europe as an assistant with the Barcelona Dragons and after 2 years was named the Head Coach of the Berlin Thunder and in only his second season won the World Bowl Championship for that organization.
---
Coach Clay Iverson ist aktuell Headcoach der Sauk Prairie High School im Bundesstaat Wisconsin. Seit 17 Jahren ist Coach Iverson als erfolgreicher High School Headcoach und Coordinator aktiv. In 13 Jahren als Headcoach (Pewaukee / Mukwonago) sammelte er 93 Siege gegen 44 Niederlagen. Seine Teams haben sich 10 Jahre hintereinander für das WIAA-Turnier qualifiziert. Viermal das Achtelfinale erreicht und einen Final Four Auftritt.
Die Mannschaften von Coach Iverson gewannen auch vier Konferenztitel und wurden dreimal Zweiter. Er wurde zweimal zum Cheftrainer des Jahres, zweimal zum Bezirkscoach des Jahres und zweimal zum Waukesha-Bezirkscoach des Jahres ernannt. Coach Iverson hat das All-Star-Spiel zweimal gecoached und wurde 2017 von der WFCA als einflussreicher Trainer des Jahres in Wisconsin ausgezeichnet.
Coach Iverson hatte 5 Conference Player of the year und über 70 All Conference Spieler gecoached.
U.a. war er der High School Coach der erfolgreichen NFL Spieler JJ Watt (Housten Texans), TJ Watt (Pittsburgh Steelers) und Derek Watt (Los Angeles Chargers).
---
Rob Aurich was added to Bob Nielson's staff in February of 2018. He serves as special teams coordinator and inside linebackers coach for the Coyotes. He worked primarily with the outside linebackers during his first season in 2018.
Aurich competed for Nielson at Minnesota Duluth and won national titles with the Bulldogs in 2008 and 2010. He graduated as the program's second-leading tackler with 310 stops, was a first-team All-American in 2009, and is a three-time all-NSIC honoree.

Aurich was on the coaching staff at Bemidji State from 2014-17 and served as defensive coordinator for the Beavers his final season there. BSU went 24-10 over his final three seasons and featured a top-25 defense with Aurich in the coordinator chair. His unit in 2017 ranked in the top 10 in opponent yards per carry (fourth), interceptions (seventh) and opponent yards per play (ninth) while also finishing 18th in sacks.

Prior to Bemidji, Aurich worked as an outside account executive at Livingston International in Chicago, and prior to that as a paralegal intern in Duluth. He received his bachelor's degree in criminology from UMD in 2010 and completed his master's degree in business administration from BSU in 2015.
---
Brian Michalowski is in his first year as outside linebackers coach at Colorado, promoted into the position in mid-February after he originally joined the staff as the director of quality control for the defense on January 7, 2019.

Michalowski, 29, came to Boulder after spending one season as a defensive analyst at the University of Georgia, where he worked alongside Tucker and CU's new defensive coordinator, Tyson Summers. At UGA, he worked with outside linebackers and helped the Bulldogs post an 11-3 record, claim the Southeastern Conference East Division title and earn an invitation to the AllState Sugar Bowl. Georgia was ranked No. 8 in the final polls and was 13th in the nation in total defense.

He was a graduate assistant for the defense at the University of Memphis for two years (2016-17), where he coached the "Kat" outside linebacker position. During those two seasons, Memphis won 18 games and ranked in the top 10 nationally in defensive takeaways each year.
Prior to his time at Memphis, Michalowski spent the 2015 season as the defensive coordinator for Garden City Community College, a member of the Kansas Jayhawk Conference, one of the nation's premier junior college conferences. That season, he coached Jeremy Faulk, the NJCAA Defensive Player of the Year. Garden City led the league in passing defense, holding opponents to 169 yards per game while making 14 interceptions; the Broncbusters also recorded 31 sacks in 11 games.
---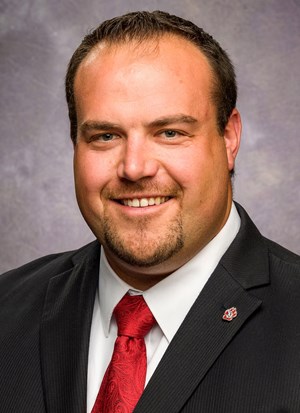 South Dakota offensive line coach Andrew Prevost joined Nielson on the Coyotes' coaching staff in December of 2015 and has worked with Nielson since 2011. Prevost coached USD tight ends in 2016 and 2017 before managing the line.
Prevost began his coaching career in 2010 working as a student assistant coach at Wisconsin-Eau Claire, his alma mater, where he lettered two years on the offensive line for the Blugolds. Prevost graduated with a degree in organizational communication/information systems in 2011.
Prevost continued his career at the University of Minnesota Duluth in 2011 and worked there for two years under Nielson as the linebackers coach. While at UMD, Prevost received a master's degree in education. He helped tutor NSIC North Division All-Conference First Team athletes Rob Huberty and Derrick Zappa in 2011 and did the same for All-NSIC honoree Nate Zuk in 2012.
In 2013, Prevost took the defensive lineman job at Western Illinois. That year the Leathernecks finished seventh in the nation in total defense, 14th in first downs defense and 31st in third down conversion defense.
For 2014, Prevost switched to the offensive side of the ball and was the tight ends coach. In 2015, he helped WIU return to the Division I FCS playoffs where the team went to the second round and finished the season with seven wins.
---
Mark Watson Jr. came to Vermillion alongside head coach Bob Nielson in December of 2015. Watson is the Coyotes' defensive backs coach and has worked with cornerbacks since 2015. He is also the head of the program's player development program.

Watson began his career at Drake University in 2010 and continued to work there throughout the 2011 season. Both seasons that Watson worked with the Bulldogs, the team led the Pioneer League in interceptions. The 2011 team won the PFL title, finished seventh nationally (FCS) in scoring defense and was 10th in total defense.

In 2012, Watson made the move to USC and worked as the graduate assistant coach in the secondary. The Trojans ended the season 7-6 and the defense finished 41st in pass efficiency and tied for 40th in scoring defense.

Watson continued his career at Western Illinois in 2013 and was in charge of the wide receivers. One year later, Western Illinois boasted three 1,000-yard receivers on the same team including first-team all-MVFC honoree Lance Lenoir Jr., who set a program record for receptions in a season.

In 2015, Watson made the move from offense to defense and coached in the secondary. He helped WIU return to the FCS playoffs for the first time since 2010. The team advanced to the second round and finished the season with seven wins.
---
Ted Schlafke, who quarterbacked Bob Nielson's undefeated Minnesota Duluth team in 2008, has been Nielson's quarterbacks coach and pass game coordinator since 2013. The 2019 season is Schlafke's fourth with the Coyotes and second as offensive coordinator.

Schlafke has debuted a pair of outstanding signal callers in his relatively short stint with the Coyotes. His first two seasons were with Chris Streveler, the 2017 FCS National Offensive Player of the Year who led one of the best offenses the MVFC has seen. USD averaged 38 points per game and a Valley-record 523 yards per game. Streveler went on to become an opening-day starter in the CFL.

Schlafke helped Nielson and Duluth capture the first national title in program history in 2008. Schlafke was a four-time team Most Valuable Player award winner, three-year team captain and led the Bulldogs to a 33-14 record while not missing a start in his four-year career.

Schlafke set UMD records for passes attempted (1,692), completion percentage (.624), passing yards (11,587) and touchdowns (106). His 1,055 career completions set an NCAA Division II record. Schlafke passed for 3,018 yards and accounted for 42 touchdowns as a senior when he was a consensus first-team All-American and finished fourth in the voting for Division II Player of the Year.
---
Online Clinic Part I
Wednesday, March 25 2020
Speaker 1: Peter Vaas
Topic: Vertical Passing Game
Time: 7.00 pm
Speaker 2: Clay Iverson
Topic: DL Drills / Run Fits
Time: 8.00 pm
Speaker 3: Rob Aurich
Topic: Punt Formation / Fundamentals and Drills
Time: 9.00 pm
Online Clinic Part II
Friday, March 27 2020
Speaker 1: Andy Prevost
Topic: Building a stance / run & pro posture
Time: 7.00 pm
Speaker 2: Brian Michalowski
Topic: Defending certain plays / 3-4 vs 4-3 Defense
Time: 8.00 pm
Speaker 3: Ted Schlafke
Topic: QB – RB in the Zone Play
Time: 9.00 pm
Speaker 4: Mark Watson Jr.
Topic: Quarters Coverage Drills & Techniques for DB
Time: 10.00 pm
---
Registration
To register for our online clinic, please send an email to: anmeldung@247afs.de
The registration fee is € 14,95 per clinic day.
If you register for both days at the same time, registration costs € 25,95. And you will receive a € 10 online voucher* from our partner DOC A SPORTS.
Please send us an email to: anmeldung@247afs.de
with the following information:
– Full Name
– For what Day will you register
– For what Team are you coaching
*The voucher is an online voucher for the online store of DOC A SPORTS. The voucher is redeemable for an online order from a value of € 25.